"Where you belong is where you choose to constantly choose to show up."
-Karins Antonoplulos
Resources Belong
Belonging Books
Eternal Echoes: Celtic Reflections on Yearning to Belong by John O'Donohue
Not For Ourselves Alone: Theological Reflections on Relationship A collection of essays by UU's edited by Rev. Laurel Hallman and Rev. Burton Carley
Belonging: A Culture of Place by Bell Hooks
Community: The Structure of Belonging by Peter Block
Belonging Books for Child and Youth
Pebble: A Story about Belonging by Susan Milord
The Ugly Dumpling by Stephanie Campisi
Little Bird by Germano Zullo and Albertine
Weslandia by Paul Fleischman
teen copes with Islamophobia, cultural divides among peers and parents, and a reality she can neither explain nor escape.
Belonging Movies
Children Full of Life – Documentary about a classroom where love, community, and happiness are valued above all else
Toy Story
You Can Count on Me -On the redeeming discovery that we belong to each other, no matter what.
Antonia's Line A celebration of radical belonging, courage and expanding what family means
Belonging Online Resources
David Byrne – "Home is where I want to be, but I guess I'm already there."
Karina Antonopoulos – "Where you belong is where you choose to constantly choose to show up."
Barack Obama – "It's only when you hitch your wagon to something larger than yourself that you realize your true potential."
Brene Brown – "In the absence of belonging, there is always great suffering."
Belonging Songs
Check out the playlist of songs about Belonging here on Spotify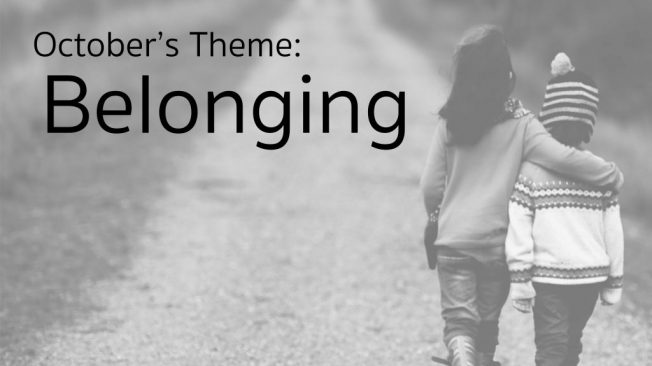 Take it Home with You
Questions for Reflection on the topic of Belonging
Everyone likes to feel wanted, appreciated and loved. What are the little things that make you feel like this and help form a sense of belonging for you?
What are some of the groups to which you belong and what makes you feel like you are a part that group?
Unitarian Universalism is a covenantal faith. We mark our belonging to Unitarian Universalism not by assenting to dogma, but by promises we make with others about how we will be in community. Reflect on your understanding of covenant in our faith tradition and how it does and or doesn't help you feel like you belong to Unitarian Universalism and/or the congregation.
Places, physical structures, geographic locations, natural surrounding all affect our sense of belonging. Reflect on a place that help you feel like you belong. What about this place gives you that feeling of belonging?