Gong Meditation
May 23, 2022 at 6pm
A Tibetan lama was asked how do you teach a child to meditate? His answer was to ring a bell and wait for the sound to disappear. The gong experience is a sound immersion of emotional crescendos accented by periods of silence, listening for the fade to infinity… Come join us as we journey together into the deep space of your interior. No experience needed, just a set of ears.
Join Dennis in-person on Monday evenings at UUCM, 328 Paddock Avenue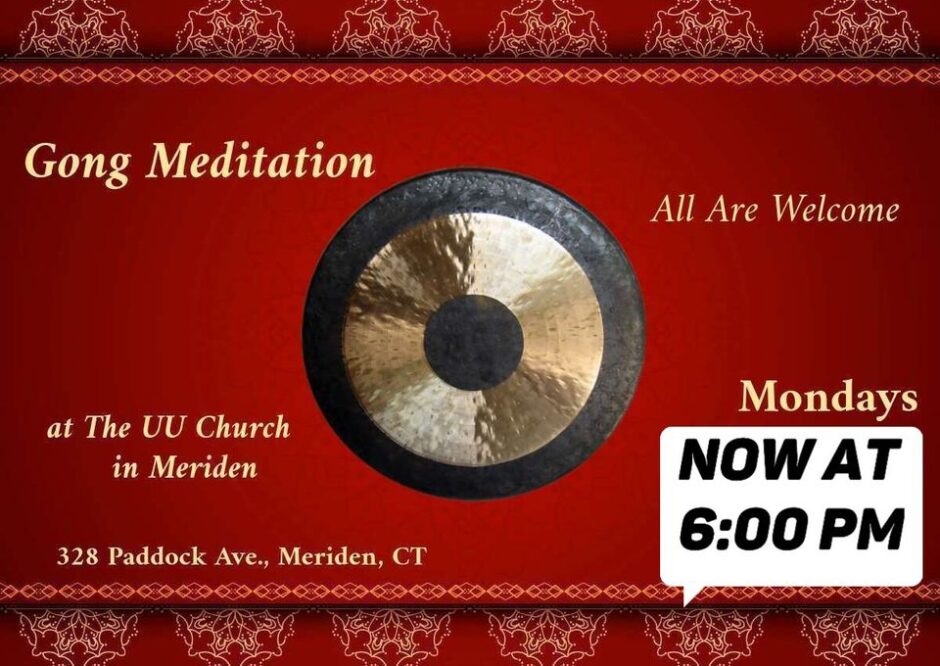 Congregational Annual Meeting
May 22, 2022 at 12: 30pm
Sunday, May 22nd at 12 noon directly following our worship service. You can join in-person or on Zoom via our usual link: go.uumeriden.org/Zoom. Members please make sure you attend to cast your vote! Refreshments and snacks will be available to enjoy on the porch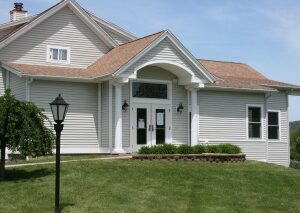 Gong Meditation
April 25, 2022 at 6pm
A Tibetan lama was asked how do you teach a child to meditate? His answer was to ring a bell and wait for the sound to disappear. The gong experience is a sound immersion of emotional crescendos accented by periods of silence, listening for the fade to infinity… Come join us as we journey together into the deep space of your interior. No experience needed, just a set of ears.
Join Dennis in-person on Monday evenings at UUCM, 328 Paddock Avenue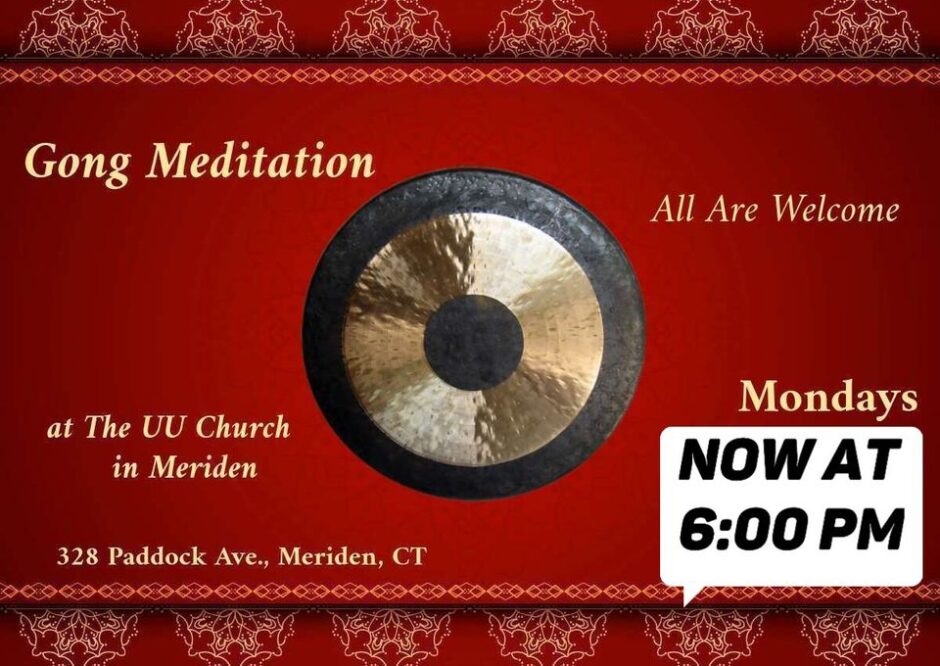 Congregational Conversation
March 20, 2022 at noon
Our next Congregational Conversation will take place on Sunday, March 20th at 12 noon right after our worship service. Rev. Tony will lead the discussion as we continue to think about our future directions, what the soul of our church is, what our mission is. Join us in-person at UU Meriden or virtually via Zoom. The Zoom link for the church service will also take you to the discussion, or remain online after worship. Members, please make every effort to attend.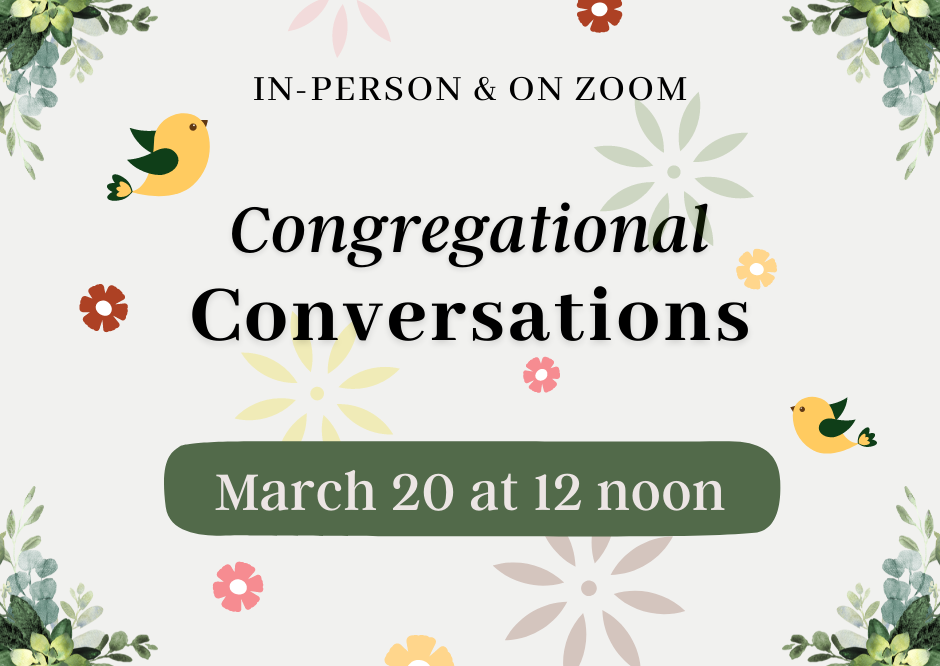 Stone Soup: Sunday
February 13, 2022 at noon
Join us in celebrating the closing of the annual "Guest at Your Table" collection with our traditional Stone Soup, back after a year off and with a twist for the times! This year you have two options so we can have a safe and delicious gathering: (1) Join us on the Front Porch to enjoy our soup directly after our worship service. Or (2) take your soup to go!
How to make it happen? Please bring veggies cleaned and cut or cooked or canned beans ready for us to use in the broth (no pasta or grains please). You can bring veggies either this Sunday, Feb. 6 or next Sun. Feb.13. For more information or to volunteer please contact Trish at trishs1864@gmail.com.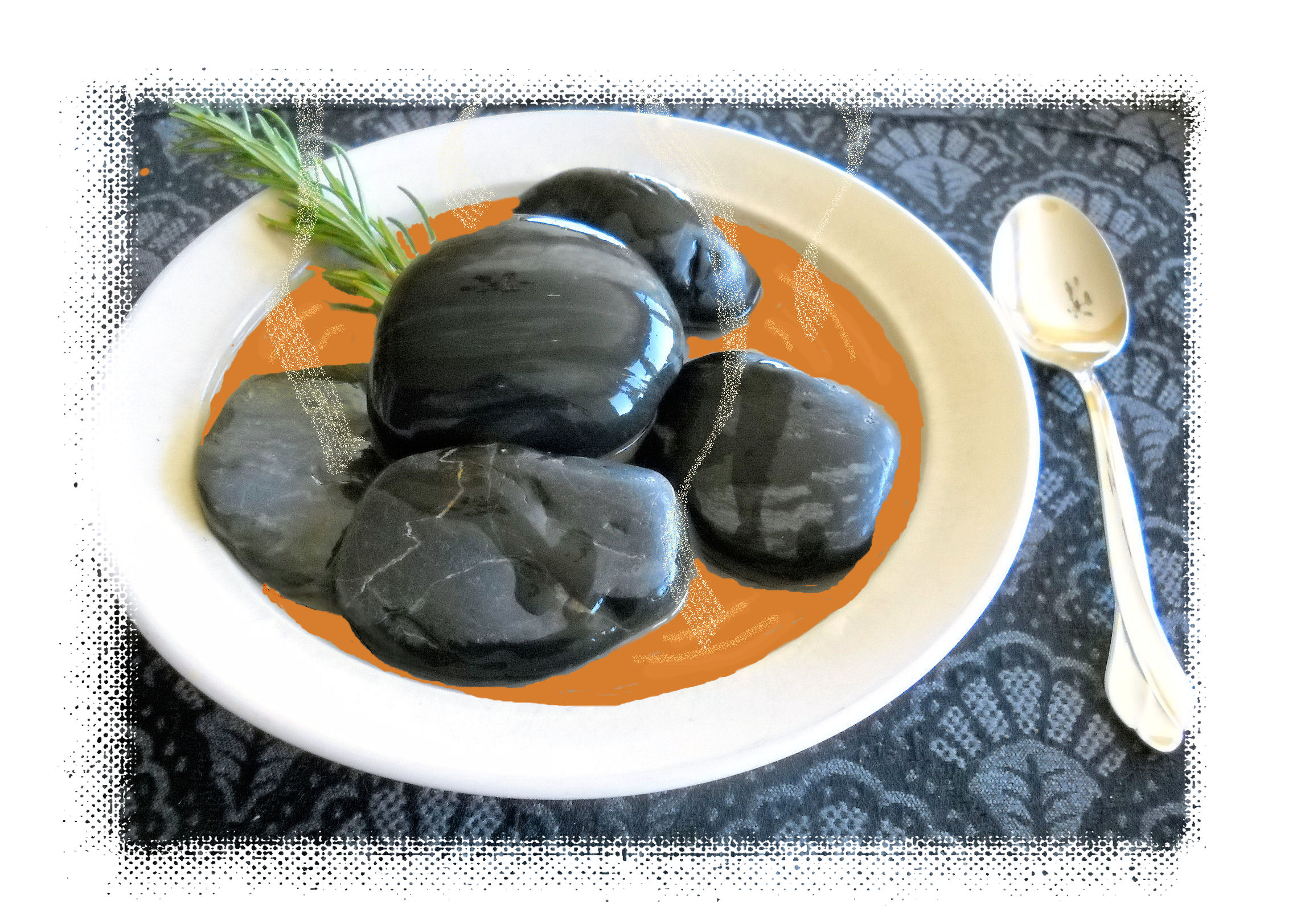 BLM Banner Stolen Again; Rising Again
January 16, 2022 at noon
UUCM's Black Lives Matter flag was stolen again. Let's raise it again together: join us in solidarity for a flag raising this Sunday, 1/16 at noon, after our 11am worship service.
An invitation from our Social Justice Council: A week ago, our Black Lives Matter banner was torn down for the second time. It will be replaced this Sunday, Jan. 16th at noon, during an outdoor, public ceremony at the Unitarian Universalist Church in Meriden. You are welcome to join us. Rain date: Tuesday, Jan. 18th at noon.
Sunday's worship service reflects on living with intention on this MLK Jr. weekend. Service starts at 11am, masks are required indoors.