Who ARE WE?
Social Justice Council: Group of individuals helping to bend the arc of the moral universe toward justice by Service and Giving, Education, Action and Advocacy.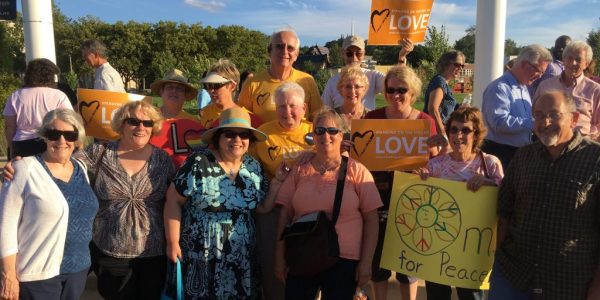 What We Do?
Currently overseeing: Anti-Racism Group, UUSC, Immigrant Rights/Sanctuary, LGBTIQQA Issues Group, Environmental Education. Open to other areas of justice if approached by a number of individuals interested in pursuing a particular issue.
A request forwarded to us from Alok Bhatt
Good morning friends,
Hoping you're well.
Please see below request from Vanesa regarding an individual who needs a 'sponsor' address to increase likelihood of her release. Details:
America Mayorga is currently in immigration detention in Colorado. She crossed over a couple of months ago with her youngest son, Yoxcer. Yoxcer, who is 18, was separated from his mother when they were detained. He was transferred to a detention center in NJ while his mother was sent to Colorado. Yoxcer's sister, Sandy, lives in Meriden so she reached out to us when Yoxcer was granted bond and the IBF helped pay his bond. However, it seems like they're not letting America out on bond. She's gone before the judge at least one time. Today I spoke to Sandy and she told me that the judge told America that they would release her on parole on if she provided a 'sponsorship' letter. Basically, they want someone to write a letter stating that they will receive and house America upon her release and provide her whatever support she needs. Ana Maria and I have been seeing this ask from judges a lot more which is good in the sense that it saves us bail money, but sucks because it's so hard to find people willing to write that kind of letter who also have status. But I was thinking that if we get a church to write a letter saying they'll provide sanctuary, then she'll most likely be released. So I'm wondering if you could help talk to the UU church folx at Meriden to see if they'd be willing to step into that role. If they provide that letter and America is released, she wouldn't have to stay with them although it's possible they might put an ankle monitor on her. But who knows. We tried this for Jose who is now in 'sanctuary' at the Old Lyme church but he's in and out with no issues. And ultimately, we could file the change of address the same week America is released to relieve the UU church of the burden from actually having to house her since she plans to go live with Sandy in Meriden anyway.
Is this something y'all may be able to assist?
How UUCM Responded
December 17, 2019
To Whom it May Concern:
Please receive this letter as an enthusiastic declaration of sponsorship for America Mayorga. We committ to housing her and providing for her needs so that she can be near her children here in Meriden, CT.
Our congregation has assisted others in the past with similar situations. We have the furnishings and the volunteers and enough community support to assist America and her children in this way.
If I or the congregation can be of any further help in your decision making process regarding America, please reach out to us.
Sincerely,
Rev. Tony Lorenzen
Minister, Unitarian Universalist Church in Meriden