OUR NEXT SHOW:
Saturday, November 18, 2023 at 7 P.M.
BLUESGRASS GUITAR DUO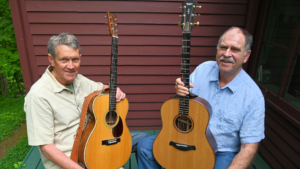 The Bluesgrass Guitar Duo features two experienced musicians who have been steeped for many years in American roots music, including blues, old-time, folk music, and bluegrass (especially its "bluesy" side and its mountain modal sounds). Both are accomplished singers, and their voices blend in close harmony along with strong and evocative instrumental accompaniment. They draw upon both contemporary and traditional sources for a well-rounded acoustic music experience.