Practicing Loving Community
"Unitarian Universalism is a liberal faith which draws on the truths of the world's great religions. We are bound by no statement of belief, and our members tend to keep open minds in a continuing quest for their own religious and spiritual truths."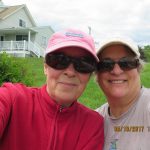 Love beyond belief
Welcome
We are glad you found our website and we invite you to explore it fully. The best way to get to know us is to visit. Sunday services are held at 10:30 am September thru June. July thru Labor Day, service is at 10:00 am. You are invited to come, ask questions or just observe, to experience our vibrant community for yourself.
What to Expect
On Sunday morning, we gather in the sanctuary for our regular services. There will be music and a chance to sing (if you want to), and offering (but first time guests are invited to let the basket pass), a 15-20 minute sermon by our minister or guest speaker, periods of silent reflection and a reading or two.
After services, we offer an opportunity to socialize during our Coffee Hour.  Our Welcome area inside the main entrance, stocks brochures about many aspects of Unitarian Universalism. Greeters are also happy to answer your questions and help you get better acquainted. Feel free to ask for a tour of our building.
For more details, see our What Happens on Sunday section under Worship.
What To Wear
For our Sunday morning services, wear what is comfortable for you. Some people wear nice casual clothes. Some are happier wearing jeans. We want you to be free to pay attention to the message of the morning and the people around you without worrying about your clothes. We ask that you do not wear perfumes or scented lotions….and that you turn off your cell phones.
Directions, Parking and Accessibility
We are located at 328 Paddock Ave. in Meriden, CT just off  Route 15. We have a parking lot in front of the church. The main Floor of our building fully accessible for those with mobility issues and other handicaps.